| | |
| --- | --- |
| A day in the Mendips | |
A day out in the Mendips.

I have for some time had a passing interest in caving, unfortunately living south of London has given me somewhat limited chances to ever follow up this interest. Things changed somewhat through a series of fortunate events. I saw for sale through a website a DVD highlighting caving diving in the UK with the CDG (Cave Diving Group). Luckily while purchasing this DVD I noticed that Christine Grosart, while also filming the CDG was offering try-caving experience days. Well I'm not one to turn down an opportunity like that so I contacted Christine and after a series of emails back and forward to Christine and my club, we'd agreed a date and I'd found 5 other willing victims to join me in the Mendips.

So forward on a few weeks and we'd been advised of all we needed to bring and where to go and duly 6 of us travelled cross country to meet up with Christine at the Wessex Cave Club in the Mendips. Well having pulled up we met up, grabbed a cup of tea and were given a briefing on how caves are formed, where they form, what we would likely be seeing and some important safety messages for us all to be aware of. We would be entering 2 caves today, the first was to be Goatchurch and then we would spend the afternoon in Swildons. This left one or 2 of our group deflated as we'd had ambitions to be pushing the far reaches of Wookey Hole but it appears that'll have to wait for another day.

Off down to Goatchurch we travelled where we parked up and were handed our equipment for the day. Wet socks and wellies, without doubt by the end of the day we were grateful for these. A warm snuggy bear suit and over suit with knee pads and a handy belt and finally but most importantly a helmet and torch, I lost count of the number of times I bounced my head off the walls and ceilings, I think this perpetual battering of the head on rock goes a long way to explaining why cavers are somewhat lacking in the 'brains' department. It's a quick 10 minute walk up to Goatchurch and we were all sweating by the time we got there as it appears Christine had ordered in a beautiful warm spring day. Goatchurch as we were told is a dry cave and likely to be quite busy.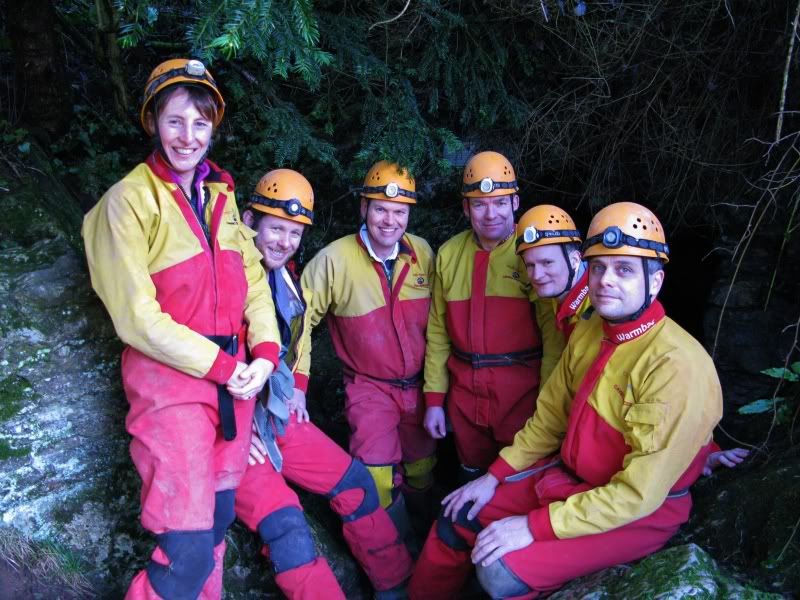 As we neared the entrance to Goatchurch Christine asked if someone would like to map read and lead us around the cave system. Knowing we only had one day in the caves and wanting to maximise the amount of time underground we gave the map to Dave, his mapping reading abilities are second to everyone and his sense of direction is a thing to behold. So having given Dave the map and then turning it up the right way for him and pointing out where we were on the map and where we wanted to go and then making sure Dave understood what all the pretty lines on the map meant, I felt assured we'd be underground for quite some time.


Goatchurch is an 'easy' cave, I think I have worked out the terminology for cavers and easy in fact means that you come out of the cave generally with less than 20% of your body covered in bruises. More later, on some of their other terminology. We entered Goatchurch and were pleasantly surprised by a sighting of a rare Bat, apparently you must not touch, look at or interfere in anyway with these bats as they are very precious. Well this bat was obviously not that precious as he was hanging around snoozing in the entrance to a very busy cave with many groups of children passing him each hour.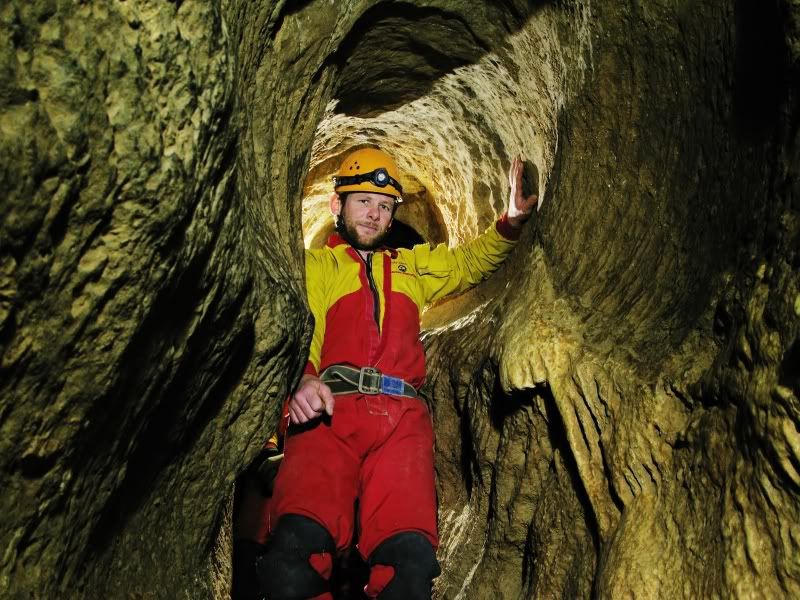 We carried on our tour of the cave following the cartographically challenged Dave where by we slithered and crawled and bumped and bounced through a variety of passages and caves. All good fun and a great initiation into caving, although it highlighted a few more of cavers, oh so amusing, terminology. One section of cave is named 'bloody tight', it did look a tight fit for a very small child but for an adult it looked like it would need 30lbs of lard and some serious winches to pull a full sized human along that passage, we all quickly passed it by with a laugh and the fear of god in our eyes. It was fairly busy inside the cave with various groups passing each other but there were lots of routes in and out. To give you some idea of Dave's mapping and cave leading abilities, we were given the instruction at the end of the cave to head up and follow the daylight to the exit, when with in sight of the daylight and exit Dave decided to turn a sharp right down a dark dead end passage. We all felt quite satisfied when we finished our tour around the cave and eventually crawled, quite ungracefully, out of the lower entrance.

It was to be a quick luncheon and a lovely birthday back at the cave club house and a round of Happy Birthday for Christine who was celebrating what must have been her 21st birthday before we were to head out to Swildons for our afternoon adventure. Over lunch Christine bought out a nice big plan of Swildons and gave us a lecture on the exploration of Swildons and the route we would be taking. It was with some amusement that we were told the story of Priddy Sink and then saw the names of the tunnels leading off from this sink to the main cave. To sum it up, you would be cleaner and possibly healthier if you swam in a cess pit and well advised not to repeat many of the passages names in polite company. For me it just added to my ever growing list of 'why cavers are not humans'……




We'd been advised that we would need to bring shorty wetsuits with us as Swildons would be somewhat 'sporting' and 'lively' in places, oh how these cavers make you laugh! Apparently 'sporting' in cave terminology means climbing up and down a number of waterfalls and 'lively' means spending the rest of the time crawling along a stream bed on your belly. 2 of our group had either not read the email advising on the wearing of a wet suit or just forgotten to bring a wetsuit so it was quite entertaining to see their faces when entering Swildons. The entry is best described as sitting in a stream and sliding down a small waterfall on your bum.
This was just the start, around every bend we would find a new sight to behold and cave structures to admire and obstacles to tackle, it was with child like enthusiasm we all relished the tasks in front of us, whether it was sliding down a waterfall or having to climb back up it, it was magical fun. After what seemed like a few minutes we came to the far reaches of our little adventure and came upon the 20ft Pitch where we would be going no further, of course that wasn't for the want of asking or wanting too but we did have to get out of this cave at some point. I will admit that I can see the allure of always wanting to go round the next corner and how addictive it can be.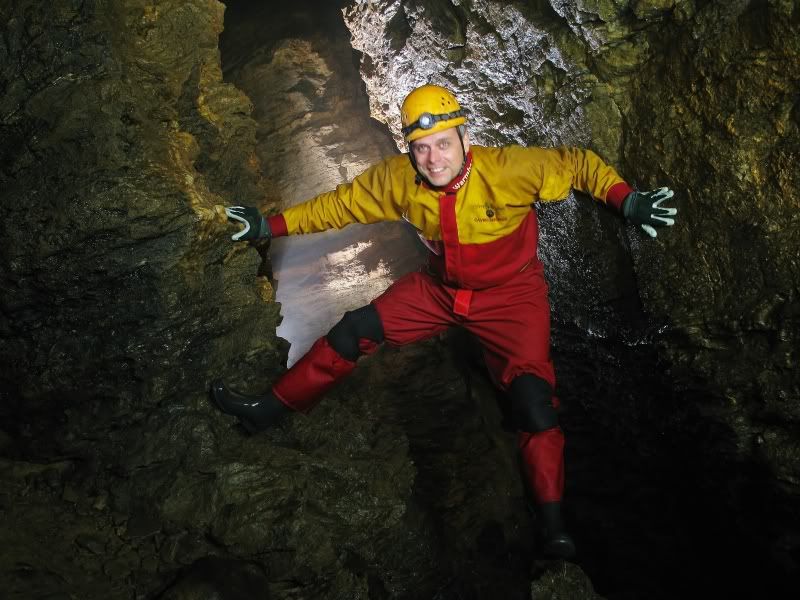 Our route back would be generally retracing our steps up to the point where we were given the option of following the dry route or the 'wet' way. You can imagine our surprise as it was pointed out to us that we'd come in the dry route. I can definitely say there was nothing dry about the route in, so we all quickly chose the 'wet' route out. You see after only a handful of hours in a cave we too had begun to lose our mental faculties. The wet way was just that, where by we again crawled along the stream bed and climbed 1 or 2 more waterfalls this time tighter and more difficult to get through. It began to build our team working for sure, as while its amusing to watch someone else lying on a waterfall kicking their legs like mad and getting nowhere you just know that the tables will be quickly turned before your now that poor unfortunate soul. Our trials were nearly over with a last tough ascent that took us literally through and up a waterfall, this was of course videoed by Christine and we all got a good laugh at each other coming out of this particular hole like drowned rats. The laughter echoed off the cavern walls for sometime as all thoughts of the wet and cold left us. Finally we pulled ourselves together and completed the final climb out of Swildons to be met by a beautiful sunset on the Mendip hills. Whether it's a deep dive or climbing out of a cave there is nothing quite like the feel of the sun on your face, we were all smiles and banter as we ambled back through the fields to the Wessex Cave Club house and a lovely cup of tea to finish our day.